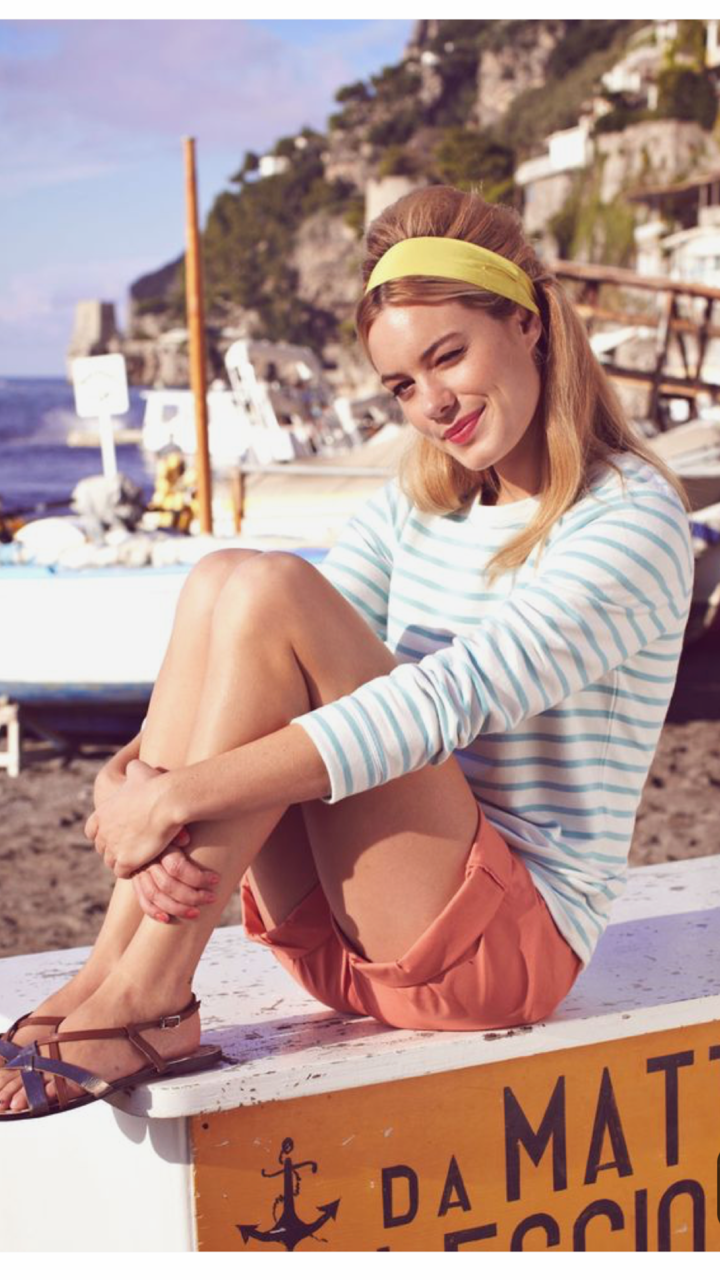 The recent experience of a friend reminded me that, as well as being persistently stylish, French women also tend to have perfect complexions.

Holidaying in the quaint town of Juan Les Pins, my friend's pre requisite, pre-travel spray tan was beginning to fade and splotch, most of it had finished on her white linen t-shirt!

After thorough exfoliation, her fair skin was more Lindsay Lohan than Marion Cotillard and her pretty linen Breton stripe dress with pastel sandals no longer seemed such a good idea.

She searched the streets, enquiring in every esthiticienne beautician with her schoolgirl French, "Avez-vous un spray tan7'

Each plea for help was met by a genuinely puzzled expression. "Mademoiselle, mais iI fait beau au-dehors." "But miss the weather is beautiful outside".

Yes, French women still sun bath.
Their magnificent skin turns a delicious caramel  colour bypassing the whole pesky burn and peel routine. They do carry sun protection to the beach in their canvas totes.

My French belle-mere even revealed that to achieve a more youthful appearance, she paints on some taches de rousseur (freckles).

I made a mental note to rethink the IPL laser treatment I had scheduled later that day and perhaps embrace my tdches de rous- seur once and for all ...

So, what lessons can we unearth from these mysterious French creatures?

Personally, I don't think I can sustain an around-the-clock chic wardrobe, but I have made an effort and designated just a few days per week to donning my cashmere tracksuit. I endeavour to use a French handbag as often as possible to jazz up my out fit and I enjoy dresses my girls in their red and white striped t-shirts to French up the family.

Eating a pastry each morning instead of All Bran and still being able to fit into my jeans feels like a stretch, but I have increased my water intake from a few random sips to at least one litre of Evian, as
per French Women Don' t Get Fat.
Yet what have really resonated with me are the findings in French Children Don't Throw Food.

Being a mother of two, and a slightly harassed one at that, I have armed myself with the book's parenting techniques and intend to enforce them at tonight's dinner.

My husband and I will be able to talk about the day's events without interruption. My daughters will praise my cooking and will not squabble over who sits where, nor kick each other under the table or drag up past grievances, real or imagined.

They will relish tonight's leek soup (to combat my morning's pain au chocolat) and, after asking for seconds, offer to do the washing up.

If this doesn't entirely go to plan, I will pour myself a stiff drink and order take out.

As they say, Paris wasn't built in a day.