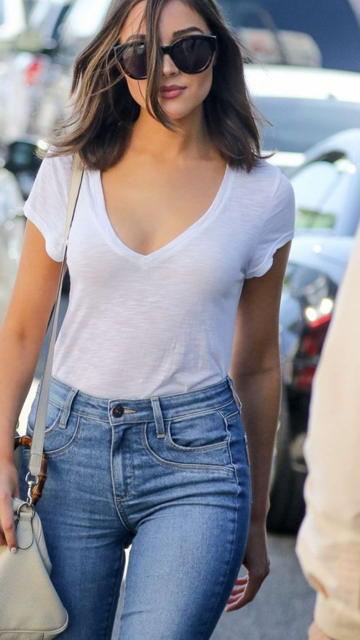 THE CLASSIC WHITE LINEN T-SHIRT
You can never go wrong with a white linen t-shirt and a great pair of blue jeans! When I travel I always pack at least three linen t-shirts as they don't seem to wrinkle and don't need to be ironed. You can match a navy blazer and scarf and you're ready to go to lunch or even to that dinner date. I like to also wear my white linen t-shirt with a formal black long skirt, mixing formal with informal to create a chic ensemble.
Most people either choose between a V Neck or Boat Neck white T-shirt. Older ladies usually opt for a higher neck, being more conservative with age. Personally, I adore V Neck. I've noticed on my travels through Europe women are not averse to wearing a black bra under their white T-shirts, giving a sexy look to enhance their outfit.
Chanel famously adapted jersey, a fabric traditionally used for underwear, into fashionable womenswear in the twenties, but it would be some time before this hidden staple came out from under, and gradually morphed from masculine to a unisex garment.
In 1991 Karl Lagerfeld paired Chanel's signature tweed cardigan jackets over white T-shirts, juxtaposing high fashion and the simple T-shirt into a popular ensemble for the fashion conscious.
The precise success of the white T-shirt is its simplistic nature and its versatility to wear and accessorize with just about anything.
Always choose styles that you feel comfortable in whether clingy to accentuate your body or boyfriend style, giving a looser more comfy fit. You'll never be disappointed having a few of these staples in your wardrobe.