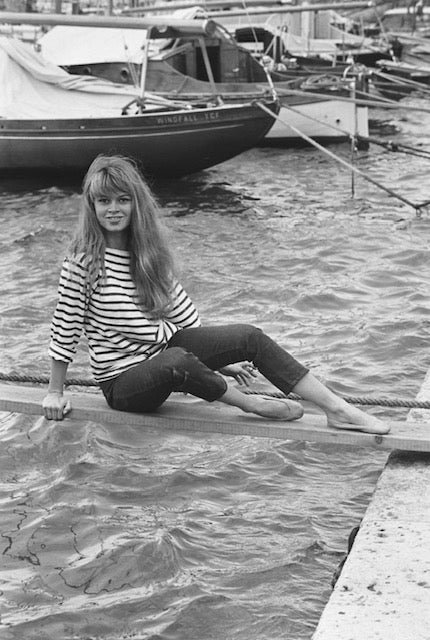 The Beguiling Brigitte Bardot
The playground of the rich and famous, the French Riviera has an unwritten uniform that combines nautical and Parisian style. One often associates the Riviera with French icons like fabled 1960's star Brigitte Bardot, lounging on the seaside in stripes and little else.
Brigitte was born in 1934 in Paris to wealthy bourgeois parents who were strict Catholics. The family lived in a plush seven-bedroom apartment in the exclusive 16th arrondissement, not far from the Eiffel Tower.
Having studied ballet for three years from the age of 13 at the Paris Conservatory, she developed the poise and gait that would soon fascinate the world.
In 1950 at the age of 15 she graced the cover of Elle magazine where everything shifted for her. She depicted the epitome of grace and style: she was demure, she was Catholic, she was all curves, and yet her body was toned and strong. 
In just a few years, she grew into a sex symbol and at age 23 she made cinematic history with the film  "And God Created Woman" directed by her then husband, Roger Vadim, which captured her exploding sensuality. The film was banned in many parts of the USA; as a result, it became an even greater box office hit in Europe.
Based on her great beauty, a combination of ravenous sensuality and great style, Brigitte has fascinated at least two generations because of her lifestyle. Passionate about several causes and defying of convention, she has been an inspiration to many women.
At the height of her career, she stepped back from the limelight, no longer wanting to be famous and hating being mobbed by fans when she did her shopping in St Tropez. Typical of her authenticity, Brigitte was drawn to the famous Riviera town because her parents had owned a home there since her childhood.
She has owned an adjoining farmhouse there since 1958 and lives there today as a virtual recluse.