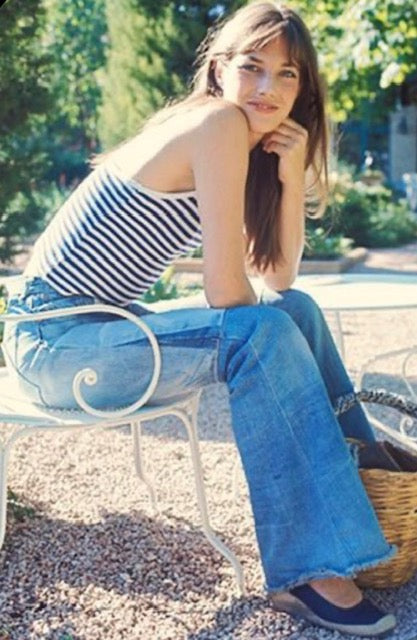 The Original French Influencer Jane Birkin 1946 - 2023
The Original French Influencer Jane Birkin

1946 - 2023
France's favourite "petite Anglaise", the British-born singer and actor Jane Birkin,  died recently at her home in Paris, at age 76. French president Emmanuel Macron paid tribute to Birkin, saying she "embodied freedom and sang the most beautiful words in our language".
"Jane Birkin was a French icon," Macron said. "A complete artist, her voice was as gentle as her commitments were ardent. She bequeaths us a legacy of songs and images that will never leave us."
To us at Jac Cadeaux, Jane Birkin was a pioneer of the kind of off-duty dressing you now see all over the streets of Paris. She was the embodiment of effortless chic and confidence, somehow always appearing to wear lightly the great challenges and responsibilities she was dealt throughout her life.
Birkin was born in London on 14 December 1946 to an actor mother and naval officer father. At 17 she married the James Bond composer John Barry, a marriage that lasted only three years and produced one daughter, Kate.
She went to Paris in the 1960s and met French singer-songwriter Serge Gainsbourg, 18 years her senior, and with him became one of the era's most fêted celebrity couples, gaining international notoriety with the erotic song Je t'aime … moi non plus.
Their on- and off-again relationship lasted 13 years and had them constantly in the French tabloids. They had one daughter together in 1971; Charlotte Gainsbourg an award-winning actor and singer.
Jane's first child, Kate Barry, a fashion photographer who worked for Vogue, died in 2013 at the age of 46 after falling from a window. She had a long history of depression and addiction. Birkin had another daughter, the singer Lou Doillon, from her 13-year relationship with the director Jacques Doillon.
Beyond cinema, Jane Birkin's legacy includes being the name behind the Hermès Birkin handbag,  launched in 1984. It was created after a conversation between Birkin and Hermès executive, Jean-Louis Dumas, on a flight from Paris to London. 
"I was on an aeroplane when a plastic bag holding all my things broke and everything fell out — my date book, papers, everything," she told T: The New York Times Style Magazine in 2010.
"Just as I was saying how I wish Hermès would make a bag that could fit all my things, the man sitting next to me happened to work for Hermès – it was Jean-Louis Dumas, the head designer." She went on, "They already had the Kelly bag, named after Grace Kelly, so he began work on the Birkin bag. I went down to the atelier and he had made it in cardboard. And we talked about it and I said they should make some changes, like making pockets bigger. And that's how it was made." 
Birkin was a deserving international icon for simplistic and chic style. From her laissez-faire fringe, to her layered necklaces, vintage denim jeans and white t-shirts, Birkin was always decades ahead of - or perhaps, floating serenely just above - the style curve.
Reposez en paix chère Jane