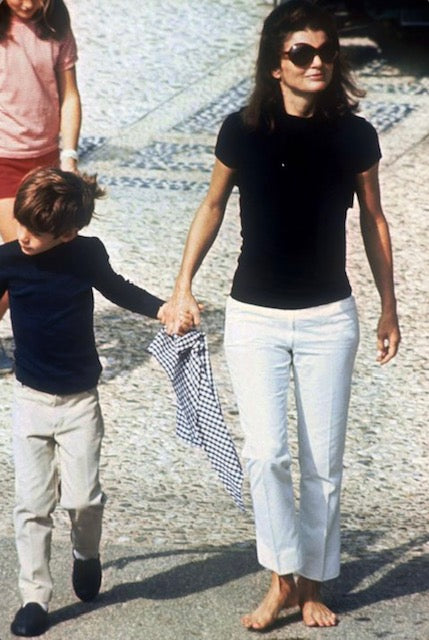 Style Selon Jackie O 
A beacon of style and grace around the world—Jackie Kennedy Onassis, the wife of President John F. Kennedy and later known as Jackie O, has undoubtedly been one of the foremost influences on style in the last century. 
Jacqueline Lee Bouvier was born on July 28, 1929, in Southampton, New York. Her father, John, was a wealthy stockbroker on Wall Street whose family had come from France in the early 1800s. 
Growing up she studied French, history and the arts. After spending her junior year abroad in Paris, Jackie fell in love with France and the European lifestyle, which would in turn be a great influence on her personal style.
Jackie met John F. Kennedy when she was a journalist at the Washington Post. The two married in 1953 and she became First Lady at 31 upon Kennedy's presidency in 1961. Her style and demeanor made her a celebrity in her own right and an asset to her husband's presidency.
In 1968, five years after JFK's assassination and with two young children, she married Greek shipping tycoon Aristotle Onassis, 28 yrs her senior. Living between Paris, Greece, and New York, Jackie continued to be a style inspiration around the world.

🇫🇷
          
Her style has influenced our Autumn cashmere and cotton blend polo tops. These trans-seasonal tops come in Navy Blue or Warm Beige. Perfect to layer with your favourite blazer or coat.