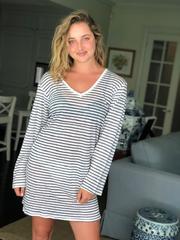 The Breton Stripe- A little history
In the midst of a sizzling Australian summer, there are few smarter ways of keeping cool and looking cool than in our range of Jac Cadeaux's range of classic, Breton stripe clothing in lightweight, pure linen.
Jac Cadeaux offers its pure linen striped navy, red and khaki dresses, long-sleeve tops and T-shirts with the choice of bateaux neck or V-neck, with the elegant and authentic Breton stripe motif we offer each linen garment in traditional navy, red or khaki. Our white linen t-shirts have been a real success also . They can be worn for casual or more formal occasions. 
Authenticity – one-centimetre wide coloured stripes separated by two centimetres of white – harks back to the origin of the Breton stripe in Bretagne (or Brittany, as the English know it), on France's north-western coast.  
In the mid-19th century, a time well before fluorescent Gore-Tex, Breton fishermen relied on heavy woollen jumpers for warmth and water-resistance while working on deck. The jumpers, made from local Breton yarn, were adopted in 1858 by the French navy, which specified the blue and white horizontal stripe to be more visible in the water. 
Folklore has it that the French Navy specified 21 horizontal stripes, to represent each of Napoleon's victories over the British.
Designers have had an enduring love of the simple, but chic stripe. Coco Chanel was suitably inspired to introduce it in a 1917 collection, in a light jersey fabric; it was a fashion natural for the seaside vacationing that took hold in the roaring 1920s. And over the following decades, with outings by cultural icons from James Dean to Audrey Hepburn to Salvador Dali to Brigitte Bardot, the Breton stripe has become synonymous with effortless French style.
Jac Cadeaux proudly translates the Breton stripe to lightweight, pure (and perfect-for-summer) linen.
For the perfect accompaniment, Jac Cadeaux offers Parisian-style, playfully sequined totes, and larger canvas totes with full leather base, trim and horseshoe charm. The bags are double-stitched for added elegance and durability and are available in French-inspired hues of blue, taupe and neutrals. These handbags are a great accompaniment to our linen apparel.